Product Name:
KN95 Face Mask for Adults or Children
Shipping time:
in stock, Ready to ship
MOQ:
200 PCS
Standard:
GB2626-2006 KN95
Material:
4 layers
Surface Layer:Polypropylene spunbonded non-woven fabric
First Middle Layer:Hot air cotton
Second Middle Layer: Melt-blown fabric
Inner Layer:Polypropylene spunbonded non-woven fabric
Feature:
Eliminate 95% of air particles and pollution, prevent spatter, and prevent certain non-oil-based particles and aerosols.
Color:
white
Packaging:
20pcs / colorbox
Single gross weight:
20g
Usage:
COVID-19, Anti-germs, prevent flu, Anti-dust ,Anti-fog,Anti-haze,Anti-PM2.5
Certification:
ISO / SGS / L.A / CE
Type
ears wearing
Filtering Rate:
≥95% (0.075μm particles)
To order, please contact our sales or email: inquiry@erichgift.com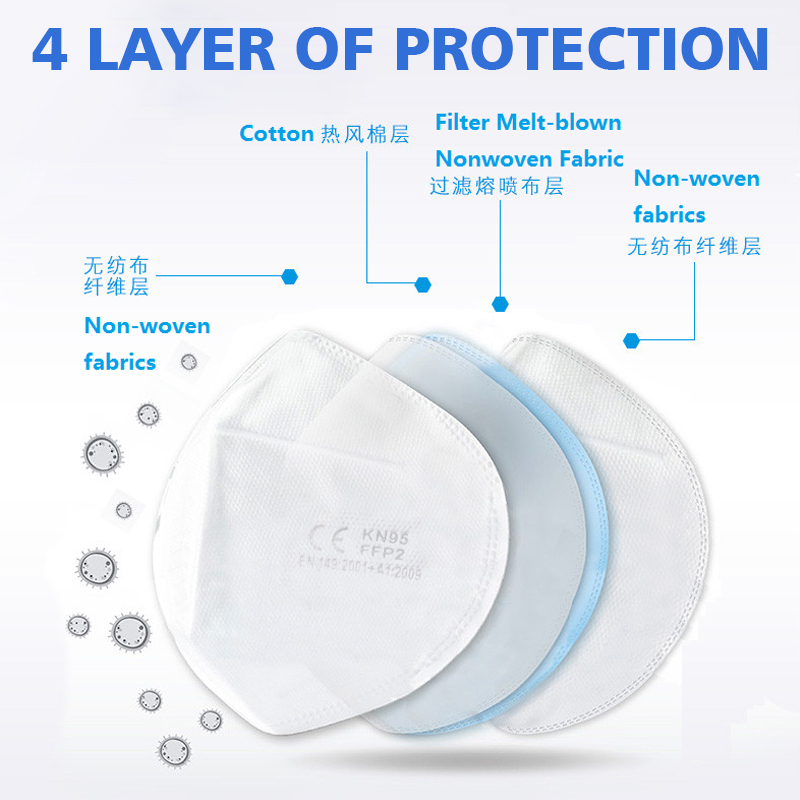 Features:
disposable KN95 masks, sanitary and convenient for using.
Made of high quality material, safe, soft and comfortable.
95% filtration, provide anti-bacterial and anti-dust protection for you.
Protect you from airborne particulates and pollution.
Elastic straps and adjustable nose clip for different face shapes and sizes. Perfect for daily use and outdoor activities.
Filter PM2.5,virus,bacteria,germ,and harmful substance in the air,protect your health!
Notes:
1)The mask maybe have some difference from pictures in some parts,stracture and color,etc because of different production period and some improvement done,thanks for your kind understanding.
2)The mixed styles in a selling packing happens sometime(but all the masks have the same functions and similar structures),thanks for your kind understanding.
FAQ:
1.Your price is too high, can I get a cheaper price?
To be honest, we also think the price is very very high now.But now mask production has been affected in China by the virus, the whole world is short of masks. So, even you pay 5USD/pc, you can hardly find any suppliers in your local city, cause most of them bought from China. Mask production capacity is limited, buyers are far beyond suppliers now. Besides, the raw material, packing box, shipping cost and labor cost all have being increasing since weeks ago.
2.How long is your delivery time?
Generally it is 1 days if the goods are in stock. or it is 3 days if the goods are not in stock, it is according to the color and quantity.
To order, please contact our sales or email: inquiry@erichgift.com